Dislocated Shoulder Specialist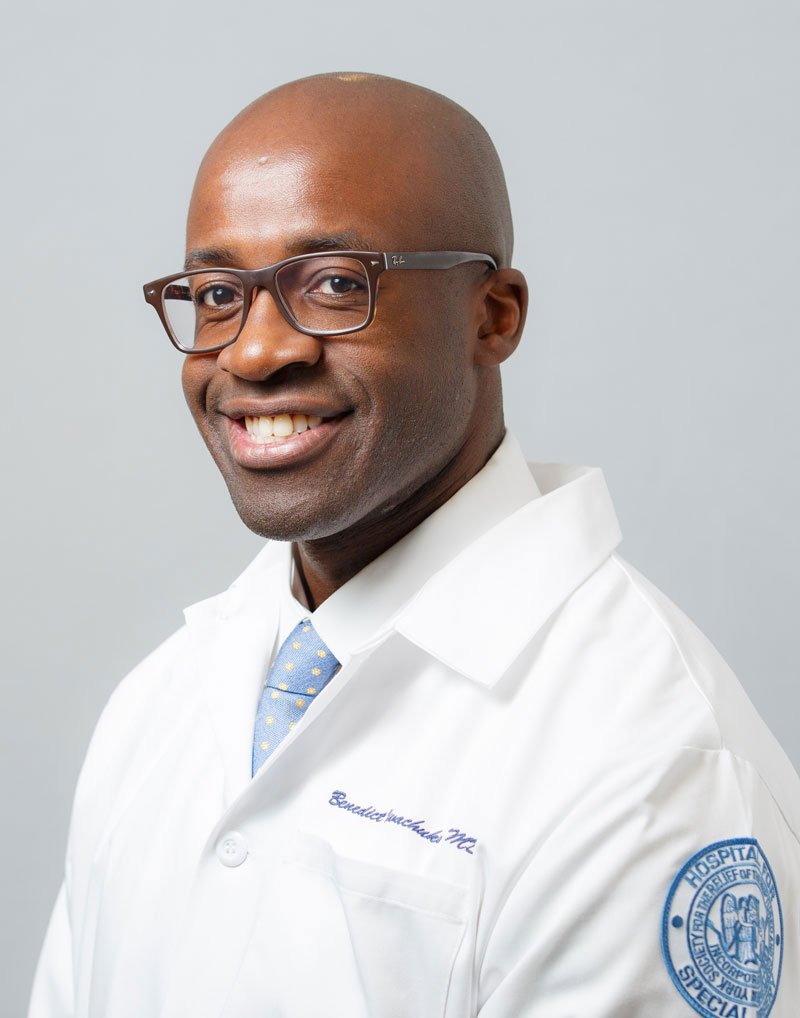 Are you an athlete who participates in contact sports? If so, you may be at risk of a dislocated shoulder. A dislocated shoulder is typically caused by blunt trauma to the shoulder or by a fall onto the shoulder. Dislocated shoulder specialist,  Doctor Benedict Nwachukwu provides diagnosis as well as surgical and nonsurgical treatment options for patients in Manhattan, New York City, NY who have suffered a dislocated shoulder or shoulder separation. Contact Dr. Nwachukwu's team today!
What is a dislocated shoulder?
The shoulder joint in inherently unstable due to its incredible mobility which allows the arm to move in many different directions. This instability makes the joint prone to dislocation, where the ball and socket within the joint becomes separated. This can occur in any direction; backward, forward or downward and is most commonly caused by trauma. Shoulder dislocation can happen because of a fall, a direct hit or an automobile accident. Dr. Benedict Nwachukwu, orthopedic shoulder specialist serving Manhattan, New York City and the surrounding New York boroughs, has extensive training and experience in working with patients who have experienced a dislocated shoulder.
How is shoulder instability related to a dislocated shoulder?
Once a patient has experienced a dislocated shoulder, the likelihood of recurrence varies but is highest in patients under 30 years of age. In general, shoulder ligaments weaken and stretch with a dislocation, making the shoulder joint unstable. Patients at risk for recurrent dislocations often participate in contact sports such as football, basketball or hockey. The continuous overhead movements in tennis, baseball to volleyball can also be related to shoulder instability and recurrent dislocations.
What are the symptoms of a dislocated shoulder?
Common dislocated shoulder symptoms are:
Pain at the time of injury, often accompanied by a popping sound
Paint that radiates down the arm
Difficulty moving the arm
Arm or shoulder numbness
Popping or crunching sensation
Loss of range of motion
Shoulder weakness
Visual deformity of the shoulder joint
How is a shoulder instability diagnosed?
Shoulder dislocations are often traumatic and will need to be reduced (put back in place). Shoulder instability afterward is fairly common. Patients in New York who suspect a shoulder dislocation or shoulder instability need to seek an orthopedic shoulder specialist who has experience in treating dislocations and shoulder instability.
Once the shoulder joint is relocated, or reduced, Dr. Nwachukwu will assess the patient's symptoms, range of motion and medical history. X-rays and an MRI scan may be used to determine the extent of shoulder damage and instability caused by a new or prior injury.
How is a dislocated shoulder and shoulder instability treated?
Dr. Nwachukwu will individualize a treatment plan to meet the patient's specific needs so that they can effectively return to sports or work.
Non-Surgical treatments:
Use of a shoulder sling for immobilization
Ice
Rest
Physical Therapy
Non-steroidal anti-inflammatory medication
Corticosteroid injections
Surgical treatments:
Some patients may require surgery for a shoulder dislocation or for shoulder instability. Dr. Nwachukwu prefers a minimally invasive arthroscopic approach which allows a quicker return to normal activities. He also has extensive experience with complex shoulder repairs and may use an open procedure to treat patients in the New York area. Patients can depend of Dr. Nwachukwu to explain and implement the latest surgical techniques to bring patients pain relief and to restore shoulder stability.
For more information about a dislocated shoulder and shoulder instability, please contact the office of Benedict Nwachukwu, MD, orthopedic shoulder specialist serving Manhattan, New York City and surrounding New York boroughs.  
Office Hours
HSS Sports Medicine Institute West Side
Monday: 8:00 am – 5:00 pm
Tuesday: 8:00 am – 5:00 pm
Wednesday: 8:00 am – 5:00 pm
Thursday: 8:00 am – 5:00 pm
HSS Brooklyn
Friday: 8:00 am – 5:00 pm