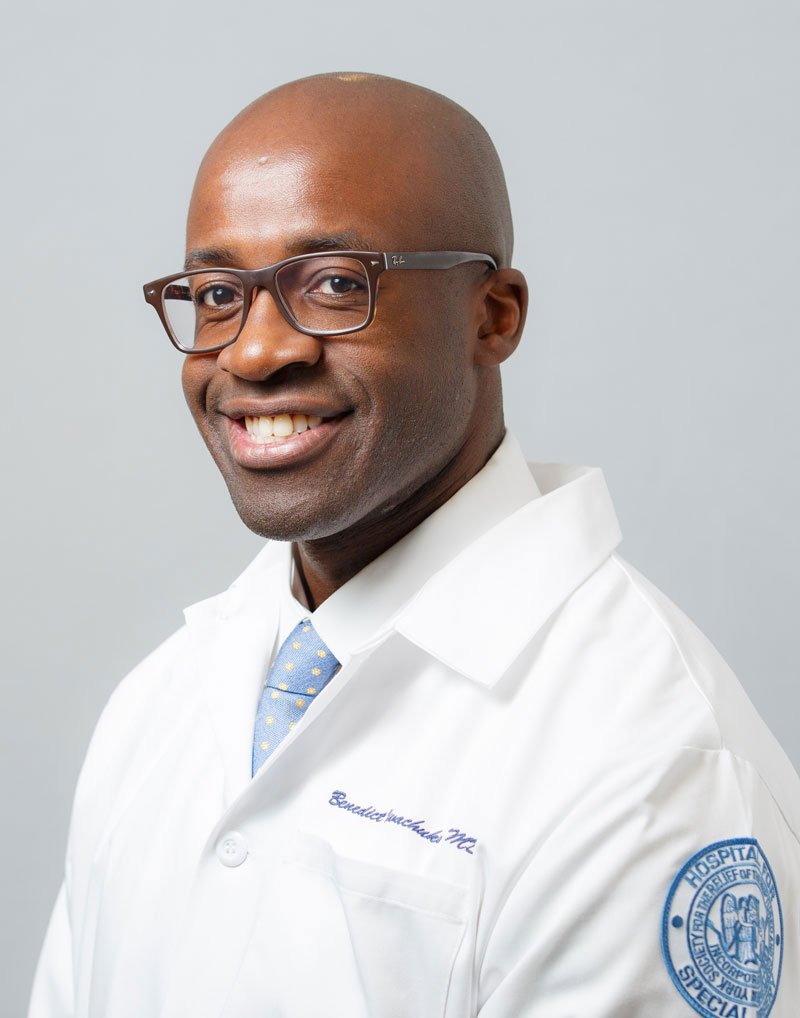 Are you an athlete who participates in sports that involve throwing overhead? If so, you may be at risk of developing a shoulder injury. Shoulder arthroscopy is an important surgical technique designed to treat an extensive array of shoulder injuries in a minimally invasive way with limited soft tissue damage. Shoulder surgeon, Doctor Benedict Nwachukwu provides diagnosis as well as shoulder arthroscopy surgery for patients in Manhattan, New York City, NY who have sustained a shoulder injury that requires surgery. Contact Dr. Nwachukwu's team today!
What is a shoulder arthroscopy?
Shoulder arthroscopy, also called minimally invasive surgery or "keyhole" surgery is a procedure in which the examination and treatment of shoulder damage is done inside the shoulder joint. Shoulder Arthroscopy is one of the most common procedures performed for many different shoulder injuries. The procedure uses a small camera, called an arthroscope, inserted through a small incision (called a keyhole) into the shoulder. The camera sends the real-time images to a screen and small, thin surgical instruments are used to examine and repair the tissues inside and around the shoulder joint. Dr. Benedict Nwachukwu, serving Manhattan, New York City and the surrounding New York boroughs, uses shoulder arthroscopy to offer his patients quicker healing time, less pain and better outcomes from shoulder joint surgery.
Is arthroscopic shoulder surgery new?
The practice of medicine is constantly evolving and improving. Orthopedic arthroscopic surgery dates as far back as the 19thcentury and the first joint to be "looked" at on the inside was a knee joint. Shoulder arthroscopy was first done in 1931 on a cadaver. In 1958 Masaki Watanabe developed a newer instrument using electronics and optics to see inside the joint. Called "Watanabe's No.21" the pioneering instrument was what North American surgeons began using to develop their skills in surgical arthroscopy. Watanabe's No. 21 has evolved with time and the use of fiber optic imaging has continued to improve.
In 1985 the first arthroscopic subacromial decompression was performed and is considered a routine arthroscopic procedure. What were once undiagnosed and untreated shoulder conditions are now easily treated by talented surgeons like Dr. Nwachukwu who have extensive experience using shoulder arthroscopy.
What shoulder conditions can be treated with shoulder arthroscopy?
A variety of shoulder injuries and conditions can be treated with shoulder arthroscopy, including:
Why would open shoulder surgery be used?
When possible, arthroscopic shoulder surgery is the preferred method of treatment for Dr. Nwachukwu. However, if a lot of shoulder damage has occurred, open shoulder surgery may be considered. Open shoulder surgery is performed through one larger incision, instead of a few small incisions. Injuries or conditions that may warrant open surgery are:
Vast shoulder damage with multiple injuries
Complex AC joint repairs that require ligament reconstruction
Clavicle fractures that are complex
Shoulder arthroplasty (shoulder replacement)
Reverse shoulder arthroplasty
What is the recovery time after a shoulder arthroscopy?
As with most arthroscopic surgeries, recovery time is often quicker than with an open surgery. Bones, tendons and ligaments take time to heal however, regardless of the type of surgery performed. During the recovery and rehabilitation process, it is important to protect the healing shoulder and to follow Dr. Nwachukwu's recommendations to avoid reinjury. Patients in New York can expect the following during the recovery phase of a shoulder arthroscopy:
Swelling, bruising, discomfort or pain are normal in the week following surgery. Icepacks are recommended, especially in the first 48 hours.
Pain medication may be prescribed and should be used only as directed.
Patients should expect to take a few days off of work.
Rehabilitation and physical therapy is a main factor for success after shoulder arthroscopy. Dr. Nwachukwu has a specific post-shoulder arthroscopy protocol to follow that includes range of motion, excises and in time, returning to normal activities.
For more information about shoulder arthroscopy or to determine if you can be treated with arthroscopic surgery, please contact the office of Benedict Nwachukwu, MD, orthopedic shoulder surgeon serving Manhattan, New York City and surrounding New York boroughs.   
Office Hours
HSS Sports Medicine Institute West Side
Monday: 8:00 am – 5:00 pm
Tuesday: 8:00 am – 5:00 pm
Wednesday: 8:00 am – 5:00 pm
Thursday: 8:00 am – 5:00 pm
HSS Brooklyn
Friday: 8:00 am – 5:00 pm