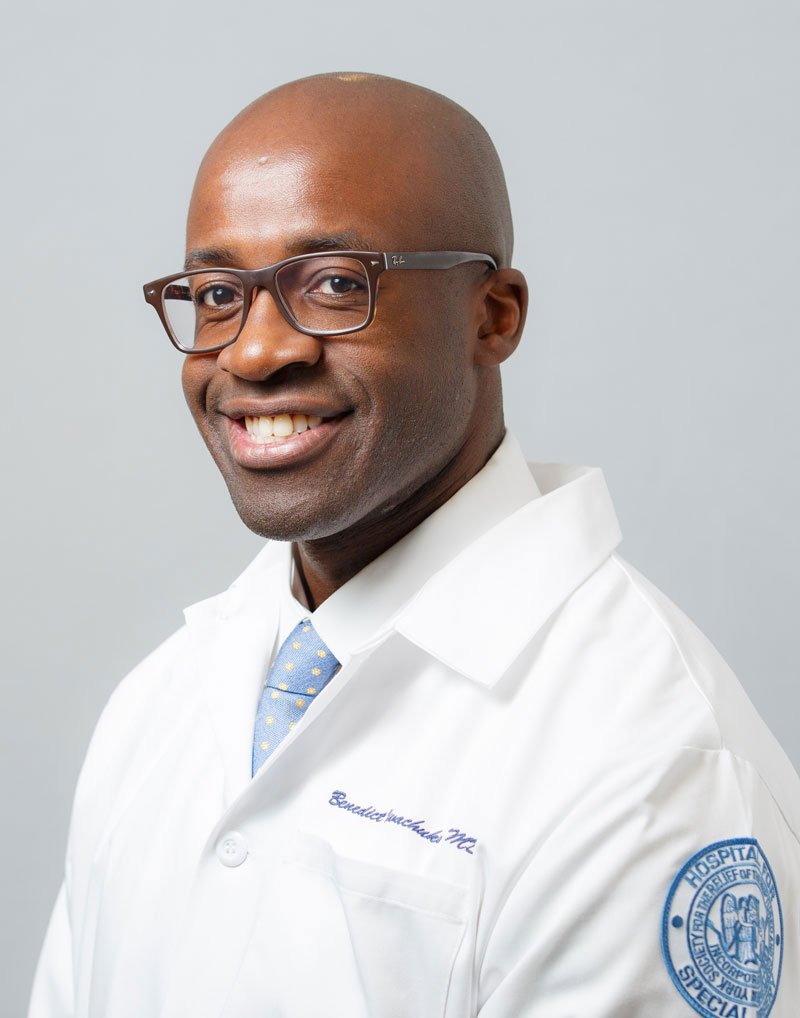 Arthroscopic hip surgery, a minimally invasive technique, is utilized to correct several acute and degenerative conditions and injuries such as femoroacetabular impingement, PVNS, chondral damage and many others. The results of surgery are most effective when a post-operative rehabilitation program involving physical therapy and exercises are implemented daily. Hip arthroscopy surgeon, Doctor Benedict Nwachukwu provides diagnosis as well as surgical and nonsurgical treatment options for patients in Manhattan, New York City, NY who can benefit from arthroscopic hip surgery. Contact Dr. Nwachukwu's team today!
What is hip arthroscopy?
Hip arthroscopy, or hip scope surgery, refers to the viewing of the inside of the hip joint through a small surgical camera called an arthroscope. The image from the camera is projected onto a screen, allowing the surgeon to operate inside the joint. The first person to describe the use of an arthroscope to see inside a joint was Denmark physician, Severin Nordentoft in 1912. Since that time, arthroscopic techniques have become a preferred method of treating many hip conditions. Dr. Benedict Nwachukwu, orthopedic hip surgeon, has extensive training and experience in hip arthroscopy. He offers this technique for a variety of hip conditions and injuries for patients in Manhattan, New York City and the surrounding New York boroughs.
Historically, hip surgery involves a large incision and a more invasive technique to treat pathologies of the hip. Today, arthroscopic surgery has advanced significantly and leaders like Dr. Nwachukwu make it possible for surgical repair of the hip to be completed with a minimally invasive approach that improves overall recovery and has shown to have good patient outcomes.
What conditions can hip arthroscopy treat?
Dr. Nwachukwu utilizes arthroscopic hip surgery to correct a number of acute and degenerative conditions of the hip, including:
What are the risks of arthroscopic hip surgery?
During a traditional hip arthroscopy, the hip joint needs to be open in order for the instruments to safely pass into the joint. The traditional way to open the joint is to place a large padded post in the patient's perineal area to give counter-traction while the leg is pulled taught. Dr. Nwachukwu is one of approximately 20% of hip surgeons in the USA  who have switched to postless hip arthroscopy.  This new technology for accessing the joint eliminates the perineal post completely by using a special surgical table to create the traction required for the surgery resulting in quicker recovery without complications such as numbness in the genital area and possible nerve damage.
What happens after hip arthroscopy?
Following arthroscopic hip surgery, it is important to follow the rehabilitation regimen set forth by Dr. Nwachukwu and his team of physical therapists. Recovery following surgery is a partnership between the doctor and patient. The results of surgery are most effective when a post-operative rehabilitation program involving physical therapy and exercises are implemented daily.
For more information and resources on hip arthroscopy or to learn more about minimally invasive surgical techniques for hip conditions, please contact the office of Benedict Nwachukwu, MD, orthopedic hip surgeon serving Manhattan, New York City and surrounding New York boroughs.
Manage Hip Pain Without Surgery
Office Hours
HSS Sports Medicine Institute West Side
Monday: 8:00 am – 5:00 pm
Tuesday: 8:00 am – 5:00 pm
Wednesday: 8:00 am – 5:00 pm
Thursday: 8:00 am – 5:00 pm
HSS Brooklyn
Friday: 8:00 am – 5:00 pm