Postless Hip Arthroscopy Specialist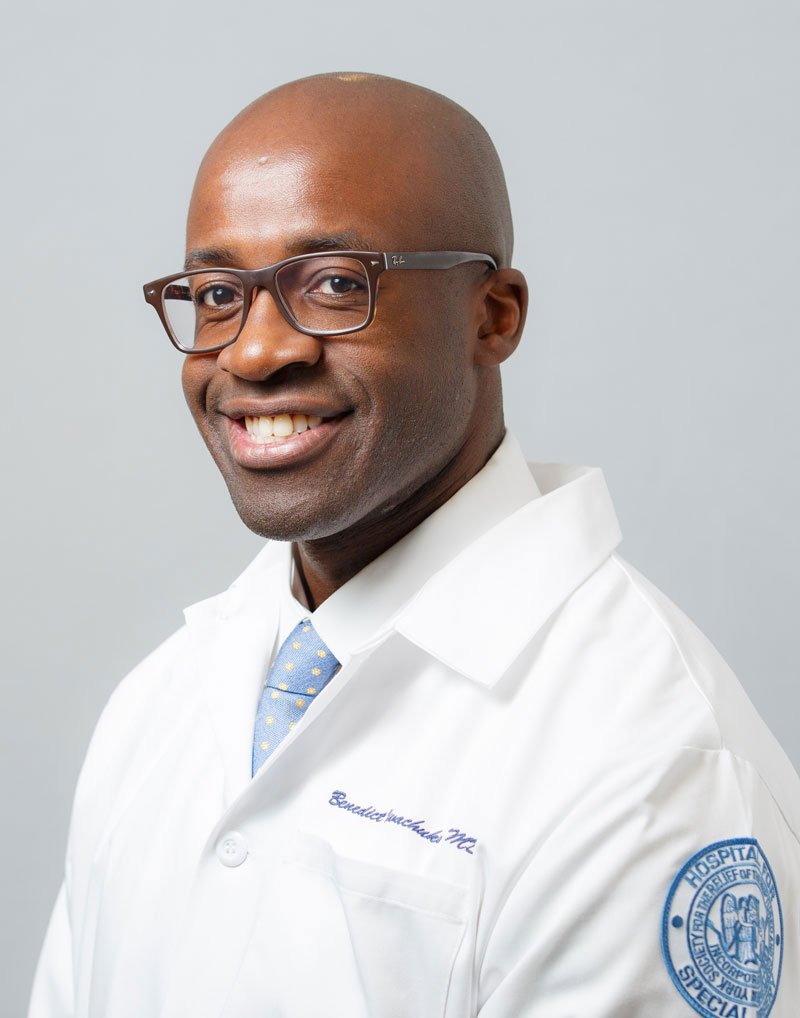 Postless hip arthroscopy minimizes the side effects of a traditional hip arthroscopy which uses a perinial post during this minimally invasive technique. Postless hip arthroscopy offers quicker recovery without complications such as numbness in the genital area and possible nerve damage. The results of postless surgery are even more beneficial than traditional hip arthroscopy. Postless hip arthroscopy surgeon, Doctor Benedict Nwachukwu provides diagnosis as well as surgical and nonsurgical treatment options for patients in Manhattan, Brooklyn, and New York City, NY who can benefit from postless arthroscopic hip surgery. Contact Dr. Nwachukwu's team today!
What is a hip arthroscopy?
Hip arthroscopy is a minimally invasive way to do hip surgery. It refers to the use of an arthroscope (small camera) to see inside the hip joint. Small, specialized instruments are used to operate within the joint. Hip arthroscopy has become a preferred method of treating many hip conditions. Dr. Benedict Nwachukwu, orthopedic hip surgeon, has extensive training and experience in hip arthroscopy as well as postless hip arthroscopy. He offers this technique for a variety of hip conditions and injuries for patients in Manhattan, Brooklyn, New York City and the surrounding New York boroughs.
What is postless hip arthroscopy?
During a traditional hip arthroscopy, the hip joint needs to be open in order for the instruments to safely pass into the joint. The traditional way to open the joint is to pull traction on the leg. This is done by placing a large padded post in the patient's perineal area to give counter-traction while the leg is pulled taught. Postless hip arthroscopy eliminates the perineal post completely, while using a special surgical table to create that traction required for the surgery.
Which arthroscopic hip procedures can be done postless?
Dr. Nwachukwu does all of this hip arthroscopies without a perineal post to avoid complications that can occur with different types of repairs. Hip arthroscopic procedures that can be done without a perineal post are:
Are there complications with hip arthroscopy when using a perineal post?
Hip arthroscopy does have risks and can have complications directly related to the use of a perineal post. Reported complications have included:
Numbness in the genital area caused by temporary or permanent pedendal nerve damage (the main nerve of the perinium)
Urinary retention and subsequent urinary tract infection
Edema, also known as dropsy – the medical term for fluid retention in the body in the perineal area
Hematoma or injury to the blood vessel
Increased post-operative pain
Retrograde ejaculation
Erectile dysfunction
What are the advantages of postless hip arthroscopy?
It's important to know that not every surgeon has the skill to perform postless hip arthroscopy. Dr. Nwachukwu has extensive experience and training with this technique and believes the extra time and effort are worth avoiding the possible side effect from using a perineal post. Therefore, all of Dr. Nwachukwu's arthroscopic hip proceedures are done using the posteless technique.  Some of the benefits include:
Eliminating nerve and soft tissue related complications
Diminished adductor and quadriceps shutdown relating to compression against the perineal post
Allows the use of anteroposterior and true lateral fluoroscopy views of the hip
Improved blood return to the heart and brain due to the inclined position the traction table offers. Improved blood return enables the patient to maintain lower blood pressure, enabling the use of lower pump pressure.
Patients are able to have bilateral hip arthroscopies in the same surgical setting, allowing quicker recovery.
For more information about postless hip arthroscopy, or to see if you are a candidate for postless hip arthroscopy for your hip condition, please contact the office of Benedict Nwachukwu, MD, orthopedic hip surgeon serving Manhattan, New York City and surrounding New York boroughs.  
Office Hours
HSS Sports Medicine Institute West Side
Monday: 8:00 am – 5:00 pm
Tuesday: 8:00 am – 5:00 pm
Wednesday: 8:00 am – 5:00 pm
Thursday: 8:00 am – 5:00 pm
HSS Brooklyn
Friday: 8:00 am – 5:00 pm