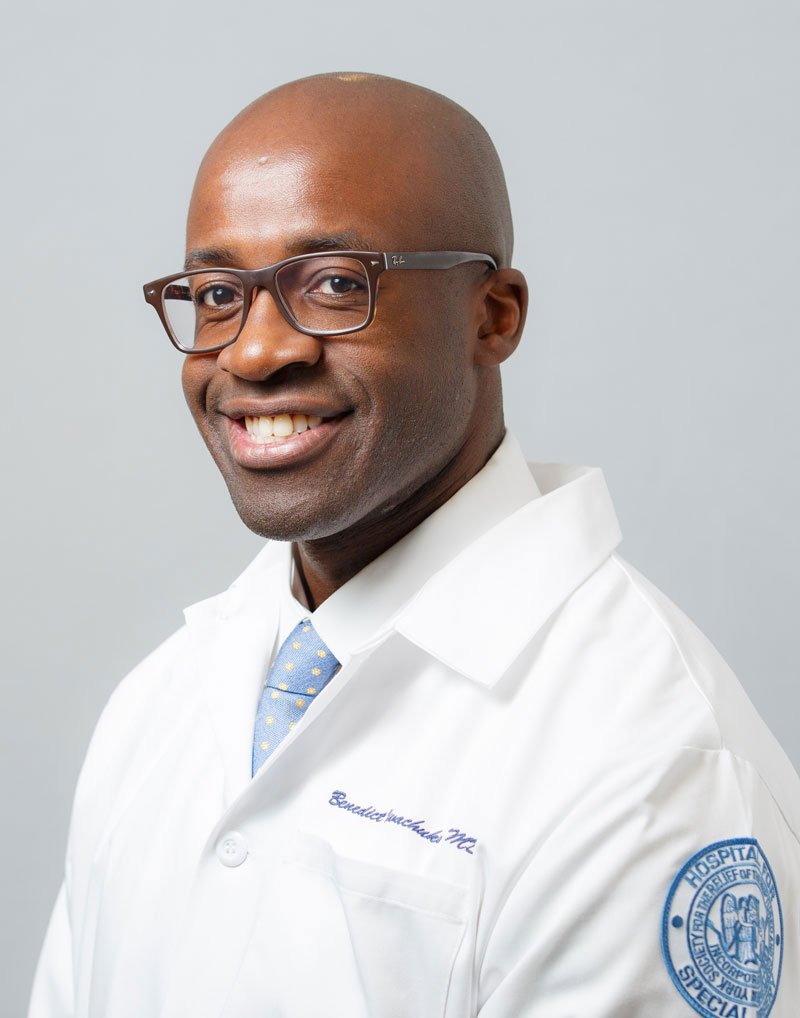 Knee arthroscopy may be recommended to relieve painful symptoms that have not responded to non-surgical treatments.  Some common arthroscopic procedures include meniscus repair, meniscectomy, ACL repair, and PCL reconstruction.  Arthroscopy surgeon, Doctor Benedict Nwachukwu provides diagnosis as well as surgical and nonsurgical treatment options for patients in Manhattan, New York City, NY who have sustained a knee injury. Contact Dr. Nwachukwu's team today!
What is a knee arthroscopy?
Knee arthroscopy, also called "key hole" surgery, is a surgical technique that can diagnose and treat problems inside the knee joint. During a knee arthroscopy, a small camera called an arthroscope is placed inside the knee joint through a small incision. The camera's image is sent to a screen so the doctor can see inside the joint. Small, specialized instruments are then inserted through additional small incisions and surgery is performed within the joint. Dr. Benedict Nwachukwu, orthopedic knee surgeon serving patients in Manhattan, New York City and the surrounding New York boroughs uses knee arthroscopy to treat a number of knee injuries and conditions.
Is knee arthroscopy new?
Knee arthroscopy is not new and may have begun as early as 1919. The first operating arthroscope was designed by Japanese Professor Kenji Takagi and later perfected by a student of his, Masaki Watanabe, MD who was inspired by the work of Dr. Richard O'Connor. Later, Dr. Heshmat Shahriaree began experimenting with ways to remove fragments of menisci. These two physicians worked together to produce the first high-quality intraarticular photography. Advances in fiber optics continued during the 1970's and 1980's and surgical studies and techniques have continued to evolve and improve since that time.  Knee arthroscopy in today's medicine is a common and relied upon technique for many knee treatments.
What knee problems can be treated with knee arthroscopy?
Dr. Nwachukwu may recommend knee arthroscopy to relieve painful symptoms that have not responded to non-surgical treatments. Common arthroscopic procedures for the knee include:
Fractures of the knee
Removal of loose bodies, bone fragments or cartilage debridement/repair
What happens during arthroscopic knee surgery?
Dr. Nwachukwu can perform the majority of arthroscopic knee surgeries on an out-patient basis. Recovery is often quicker than with traditional "open" surgery. To begin the surgery, Dr. Nwachukwu will make a few small incisions in the knee. He uses a sterile solution which fills the knee joint and rinses away any cloudy fluid. This will assist him in visualizing the structures inside the knee in great, clear detail. An arthroscope is then inserted into one of the incisions and he will look around inside the joint, identifying problems and issues that need to be repaired. Small, specialized tools are inserted through other small incisions and are used to perform the surgery needed. When the surgery is completed a stitch or steri-strips will be used to close the small incisions.
How long does arthroscopic knee surgery take?
The time it takes to complete an arthroscopic surgery of the knee depends on many different factors. The complexity of the repair, size, area of injury, and damage to knee structures all contribute to the time it takes to do the repair and/or reconstruction. In general, a simple procedure without any other damage can take about an hour. A knee with a lot of structural damage that has several different issues can take more time and may take several hours.
Will I need physical therapy after arthroscopic knee surgery?
The success of a knee arthroscopy is largely dependent on the patient's willingness to complete an appropriate prost-operative protocol. Dr. Nwachukwu will provide all of his patients in the New York area with a detailed outline of the rehabilitation and physical therapy recommendations. Most patients are able to return to physical activities after 6 to 8 weeks if not sooner. Ligament injuries take longer to heal and a return to activities may take several months, depending on the extent of the repair.
For more information on knee arthroscopy or to have your knee pain evaluated for possible arthroscopic treatment, please contact the office of Benedict Nwachukwu, MD, orthopedic knee surgeon serving Manhattan, New York City and the surrounding New York boroughs.   
Office Hours
HSS Sports Medicine Institute West Side
Monday: 8:00 am – 5:00 pm
Tuesday: 8:00 am – 5:00 pm
Wednesday: 8:00 am – 5:00 pm
Thursday: 8:00 am – 5:00 pm
HSS Brooklyn
Friday: 8:00 am – 5:00 pm