Hip Subchondroplasty Surgeon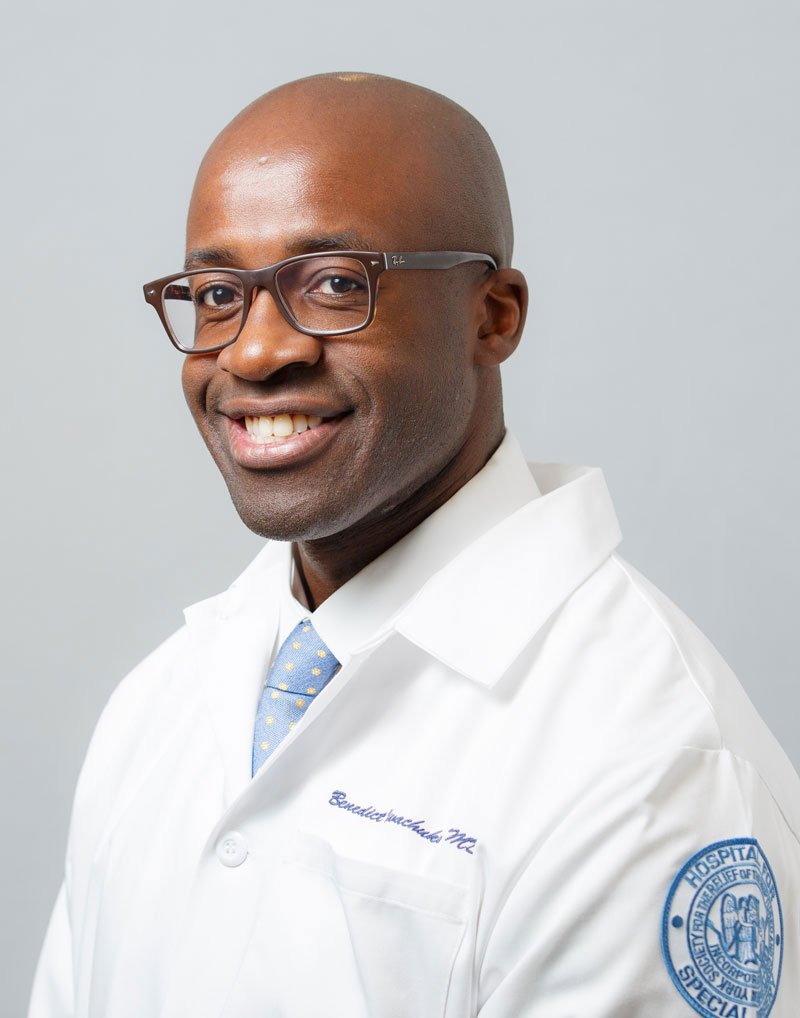 Do you have hip pain that has gone on for three months or longer and is not helped by medication? Are you experiencing pain while walking or standing and have received little to no benefit from physical therapy?  If so, it may be time to consider subchonroplasty. Subchondroplasty, for select candidates, can be an alternative to hip replacement. Doctor Benedict Nwachukwu provides diagnosis as well as surgical and nonsurgical treatment options for patients in Manhattan, New York City, NY who are experiencing hip pain and other hip conditions. Contact Dr. Nwachukwu's team today!
What is subchondroplasty hip surgery?
Some patients with hip injuries or mild osteoarthritis of the hip develop bone subchondral (under the cartilage) abnormalities. These abnormalities, called subchondral defects or cysts occur in the bone that supports the cartilage of the hip.  Subchondroplasty is a minimally invasive treatment for subchondral defects in the hip that utilizes a biologic material to fill in the damaged area, mimicking the body's own natural bone. By performing subchondroplasty, support is restored to the cartilage layer – this is thought to prevent progression to hip osteoarthritis. Dr. Benedict Nwachukwu, orthopedic hip surgeon, can assess and treat abnormalities due to hip injuries or mild osteoarthritis.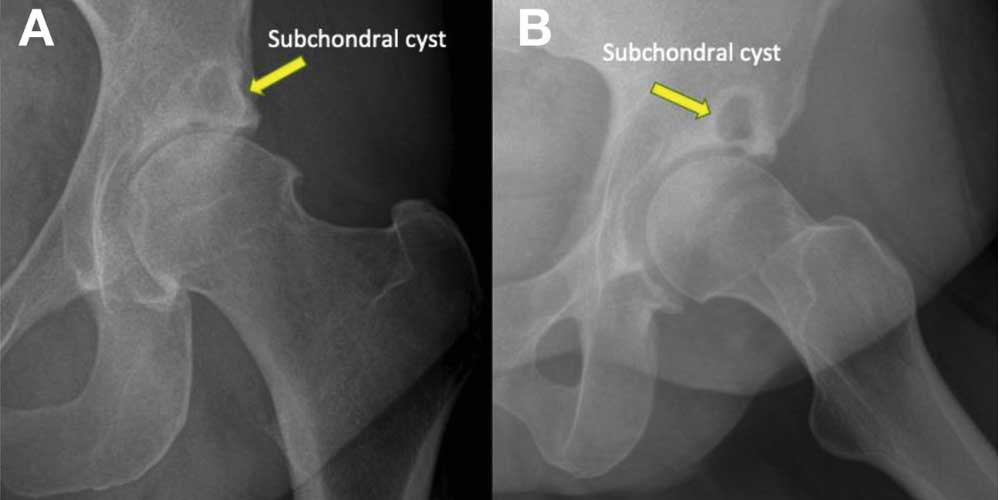 How is a subchondroplasty hip procedure performed?
Hip subchondroplasty is a minimally invasive arthroscopic treatment and is fluoroscopically assisted. A fluoroscope is a special radiological instrument that allows  Dr. Nwachukwu to obtain an x-ray of the hip at the time of surgery. This real-time x-ray helps him find the exact location of the subchondral lesion. The subchondral cyst is a soft-spot or a hole that occurs when the bone material breaks down and causes pain. Dr. Nwachukwu uses specialized instruments which allow him to inject a substitute material into the bone through a tiny hole drilled in damaged area. This calcium phosphate mineral compound hardens, mimicking the body's own natural bone and over time, is reabsorbed by the body and replaced with actual healthy bone. Dr. Nwachukwu performs an arthroscopy at the time of subchondroplasty in order to better visualize the joint surface.
Who is a candidate for hip subchondroplasty?
Patients who are experiencing the following symptoms may be good candidates for hip subchondroplasty:
Discomfort when walking or standing
Painful symptoms that returned after a hip arthroscopy
Unable to find relief from NSAIDs (non-steroidal anti-inflammatory drugs
Receive little or no benefit from physical therapy
Hip pain that is ongoing for 3 months or more
Mild hip arthritis that is not yet amenable to a hip joint replacement
What are the benefits of subchondroplasty?
Hip subchondroplasty is a viable alternative to hip replacement. Some benefits patients in Manhattan, New York City and surrounding New York boroughs experience are:
Minimally invasive surgery takes less time to recover
Immediate help for hip pain
Uses the body's own biological response to heal damaged bone
Less recovery time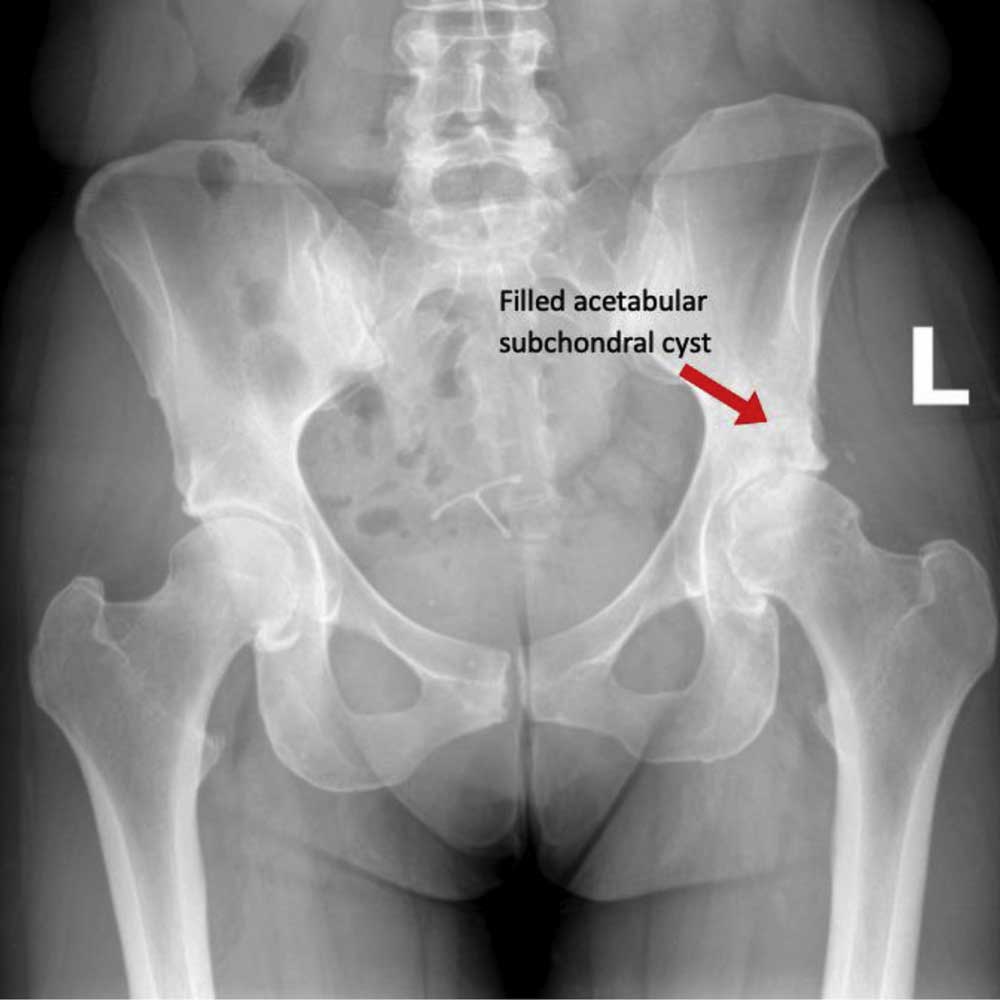 What are the risks of arthroscopic hip surgery?
During a traditional hip arthroscopy, the hip joint needs to be open in order for the instruments to safely pass into the joint. The traditional way to open the joint is to place a large padded post in the patient's perineal area to provide counter-traction while the leg is pulled taught. Dr. Nwachukwu is one of approximately 20% of hip surgeons in the USA  who have switched to postless hip arthroscopy.  This new technology for accessing the joint eliminates the perineal post completely by using a special surgical table to create the traction required for the surgery resulting in quicker recovery without complications such as numbness in the genital area and possible nerve damage.
How long does it take to recover from subchondroplasty?
Dr. Nwachukwu will give his patients a set of post-operative protocols that include physical therapy and range of motion exercises.  Improvement can be expected in 3-6 weeks with a full recovery in about 4 months.
For more information regarding hip subchondroplasty, or to see if you are a candidate for this procedure, please contact the office of Benedict Nwachukwu, MD, orthopedic hip specialist serving Manhattan, New York City and surrounding New York boroughs.   
Office Hours
HSS Sports Medicine Institute West Side
Monday: 8:00 am – 5:00 pm
Tuesday: 8:00 am – 5:00 pm
Wednesday: 8:00 am – 5:00 pm
Thursday: 8:00 am – 5:00 pm
HSS Brooklyn
Friday: 8:00 am – 5:00 pm