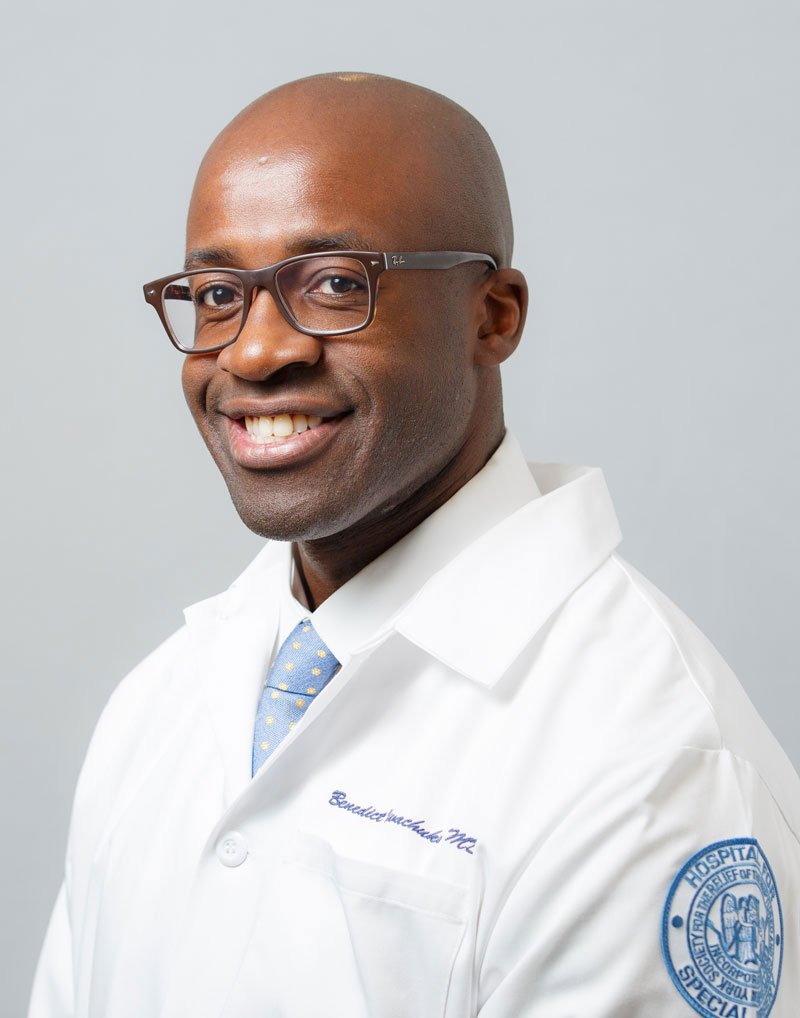 Although often asymptomatic, cysts in the hip joint can cause significant groin pain and restriction in 25% of patients.  Acetabular paralabral cysts are often associated with labral tears, while subchondral cysts are related to the joint degenerative process, occurring where there are breaks in the hip joint cartilage.  If you are experiencing symptoms of hip cysts, HSS hip specialist Dr. Nwachukwu can provide a diagnosis as well as surgical and nonsurgical treatment options for patients in Manhattan, New York City, NY. Contact Dr. Nwachukwu's team today!
What are acetabular cysts in the hip?
Acetabular cysts, or acetabular paralabral cysts (APLCs) are common in the hip and can be asymptomatic in as many as 1/4th of the patients who have them. However, these types of hip cysts can also cause pain and restriction in the hip joint, accompanied by hip pain severe enough to require surgical intervention. Dr. Benedict Nwachukwu, Orthopedic hip specialist, treats patients in Manhattan, New York City and the surrounding New York boroughs who are experiencing pain associated with an acetabular paralabral cyst in the hip.
What are acetabular paralabral cyst hip symptoms?
Patients who have APLC's, or acetabular paralabral cysts usually have symptoms of:
Pain that is sharp and sudden
Anterior hip pain
Painful flexion at the hip
Clicking, popping or snapping of the hip
On rare occasion, paralabral cysts within the hip can cause compression of the sciatic nerve or femoral vein.
What causes acetabular paralabral cysts?
Paralabral cysts are often associated with labral tears. These cysts are usually small, well-defined fluid-filled lesions. When there is a labral tear in the hip, the loss of stability between the femoral head and the acetabulum (socket of the hipbone) can cause synovial fluid through the acetabulum, resulting in a paralabral cyst.
How are paralabral cysts treated?
The method for treating acetabular paralabral cysts is different, depending on the severity of the condition, the cause and the involved structures of the hip. If the labrum is damaged, Dr. Nwachukwu will repair or reconstruct the labrum. If there is no significant labrum damage to warrant repair or reconstruction, Dr. Nwachukwu may perform a core decompression.
What is a subchondral cyst in the hip?
Subchondral cysts are typically found within the hip joint. Subchondral means under the cartilage and refers to fluid-filled cavities within the bone that are under the cartilage. Subchondral cysts are often a part of the degenerative joint process and occur where there are breaks in the hip joint cartilage. It can be thought of similar to the tiling in a bathroom – when there are cracks in the tile, water can get through and damage the foundation below. If left unattended these cysts can progress to joint degeneration and hip osteoarthritis.
What are the symptoms of a subchondral cyst?
Subchondral cysts within the hip are considered a symptom of osteoarthritis. Symptoms of subchondral cysts are:
Pain within the hip joint
Discomfort when sitting or when walking
Lack of range of motion, or flexibility
Feeling of popping, crunching, clicking or snapping within the joint
How are subchondral cysts treated?
Dr. Nwachukwu will assess the damage to the hip joint as well as the cysts associated with osteoarthritis. If the cysts are treated in the early stages of hip osteoarthritis, he can perform a treatment called Subchondroplasty. Subchondroplasty is a joint-saving procedure that targets subchondral defects and utilizes special materials to regrow and heal the bone.
How are acetabular subchondral cysts treated?
Non-Surgical Treatment:
Hip cysts can often be treated non-surgically by the following:
I.C.E: Rest, Ice, Compression, and Elevation.
NSAIDs: Non-steroidal anti-inflammatory medication
Physical therapy
Surgical Treatment:
Surgical treatment options for New York patients may vary, based on the size, type and symptoms of the hip cyst. Surgical options may include:
Arthroscopic removal: Some hip cysts can be removed arthroscopically, using a small camera inserted into the joint and small, specialized instruments.
Drainage: Acetabular cysts can be drained, releasing the pressure on surrounding tissues.
Subchondroplasty: An arthroscopic procedure that targets and treats subchondral defects associated with chronic bone lesions.
Total Hip Replacement: Also called total hip arthroplasty, is used for advanced cases of osteoarthritis. Arthroplasty replaces the natural ball and socket hip joint with a synthetic joint called a prosthesis which eliminates the pain from osteoarthritis.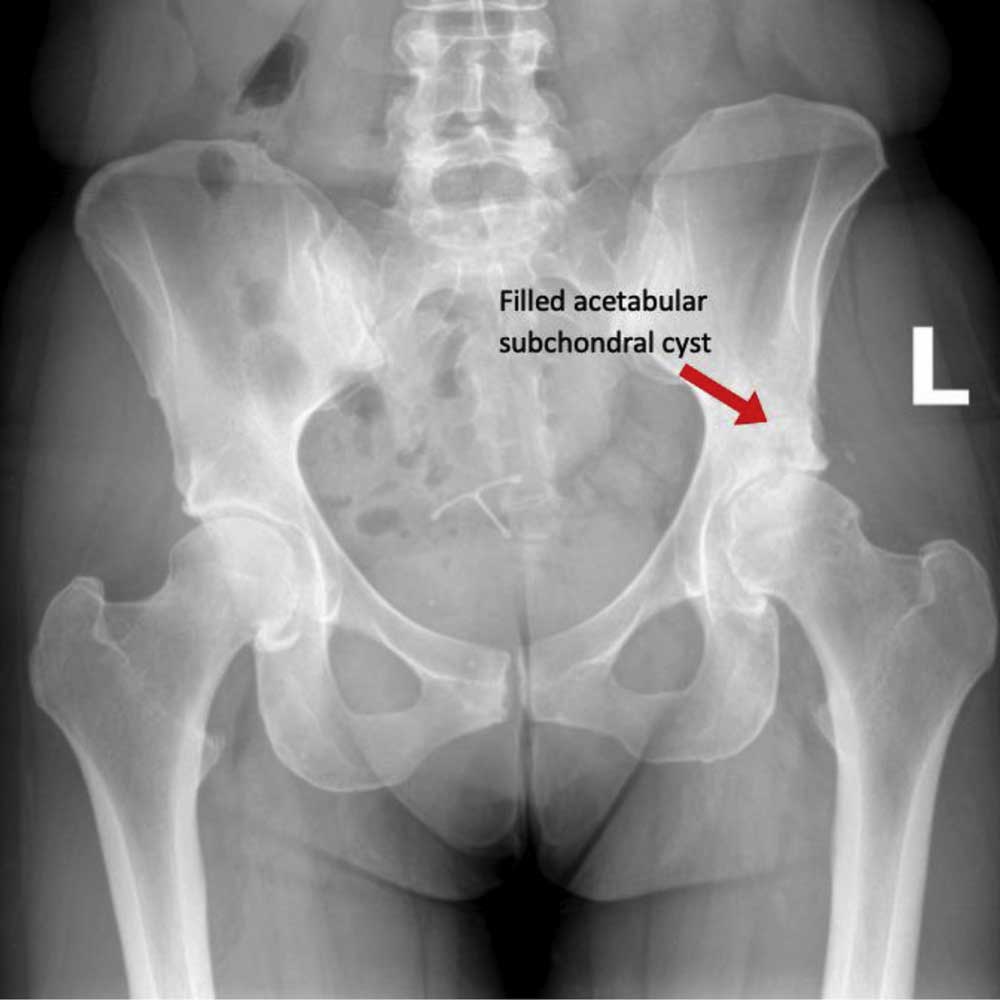 For more information on acetabular cysts and subchondral cysts in the hip, or to talk about the treatment options available for your hip pain, please contact the office of Benedict Nwachukwu, MD, orthopedic hip specialist serving Manhattan, New York City and surrounding New York boroughs.   
Office Hours
HSS Sports Medicine Institute West Side
Monday: 8:00 am – 5:00 pm
Tuesday: 8:00 am – 5:00 pm
Wednesday: 8:00 am – 5:00 pm
Thursday: 8:00 am – 5:00 pm
HSS Brooklyn
Friday: 8:00 am – 5:00 pm