Hip Core Decompression Surgeon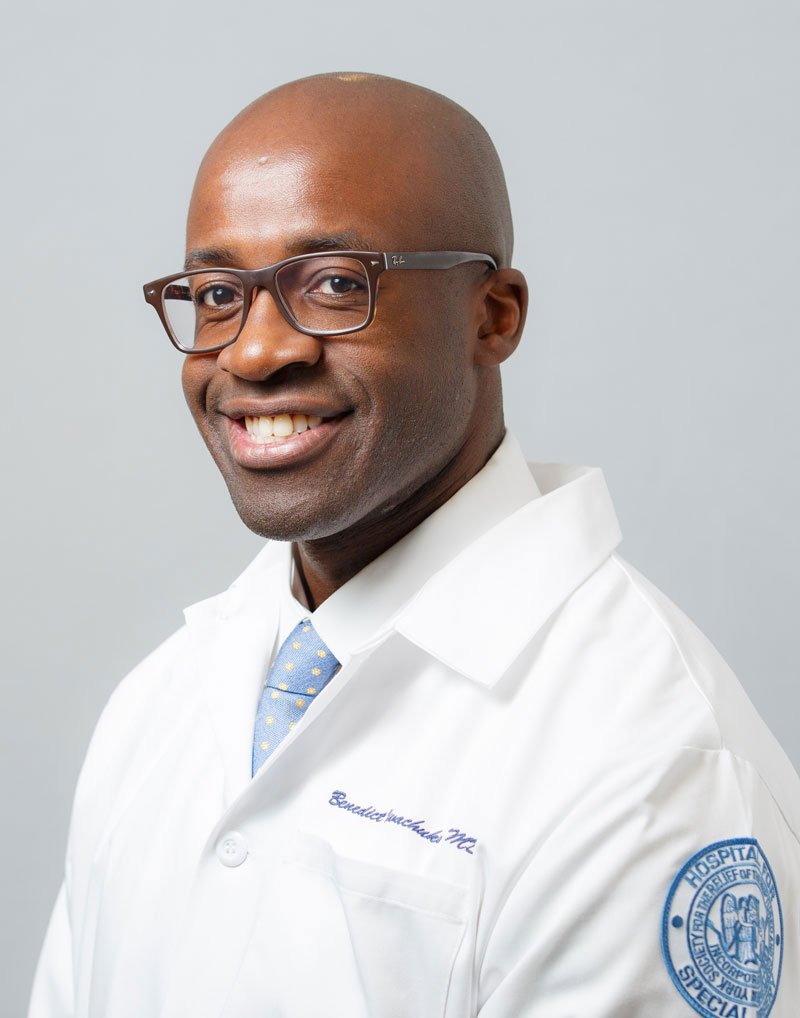 Do you have hip pain that is a dull ache or throbbing pain in the groin or buttock area? Has it become more difficult to stand or put weight on your hip? If so, you may have a hip condition called avascular necrosis, or AVN, also known as osteonecrosis. A core decompression of the hip, using stem cells, can help alleviate the symptoms of AVN as well as grow new bone tissue. Doctor Benedict Nwachukwu provides diagnosis as well as surgical and nonsurgical treatment options for patients in Manhattan, New York City, NY who need a core decompression of the hip to avoid hip replacement. Contact Dr. Nwachukwu's team today!
What is a core decompression of the hip?
Hip core decompression is a surgical procedure used to treat osteonecrosis, or avascular necrosis (AVN) of the hip. It involves drilling one larger hole, or several smaller holes into the dead bone of the femoral head (top of thigh bone) in order to relieve pressure in the bone. This allows for increased blood flow by creating channels for new blood vessels to nourish the affected areas of the hip. This procedure can slow down or stop the destruction of the bone and hip joint. At the time of core decompression surgery, Dr. Nwachukwu will commonly inject stem cells and bone substitute into the femoral head in order to encourage bone re-growth and provide structural support. Additionally, core decompression is commonly performed with a hip arthroscopy and during this procedure, Dr. Nwachukwu will visualize inside of the hip joint in order to clean up any inflamed tissue or joint injury. Dr. Benedict Nwachukwu, orthopedic hip surgeon can successfully perform core decompression for patients in Manhattan, New York City and surrounding New York boroughs who have osteonecrosis.
Why would I need a core decompression in my hip?
No one knows exactly why the femoral head begins to die, it can be from trauma or a genetic disorder. Hip necrosis (bone death) also called osteonecrosis in the hip has been linked to steroid use, alcoholism, lupus, sickle cell disease and repeated dislocations. A hip decompression relieves the pressure within the bone and can allow for proper healing without the need for a hip replacement.
Pre-Operative MRI with Left Hip AVN
How is a hip core decompression procedure performed?
After determining that a core decompression is the best treatment option, Dr. Nwachukwu will perform this surgery using a minimally invasive technique called arthroscopic core decompression. He will use a live x-ray imaging machine (called a fluoroscopy) to guide special surgical instruments to the damaged bone. Through a small incision in the hip, he places a guide wire through the neck of the femoral head, to the necrotic (dead) area. Dr. Nwachukwu then drills a hole along the wire and removes the dead bone. To replace the dead bone, Dr. Nwachukwu will inject stem cells and bone substitute into the area. The pressure on the bone is immediately reduced and creates space for new blood vessels to grow, which nourish the existing bone. In addition to using fluoroscopy, Dr. Nwachukwu uses hip arthroscopy to identify and clean up any areas of structural damage inside the hip joint. After the procedure, sutures are used to close the small incisions.
Intraoperative hip core decompression performed safely under direct visualization with hip arthroscopy
Intraoperative hip core decompression performed safely under direct visualization with hip arthroscopy – injection of bone substitute with stem cells
What are the risks of arthroscopic hip surgery?
During a traditional hip arthroscopy, the hip joint needs to be open in order for the instruments to safely pass into the joint. The traditional way to open the joint is to place a large padded post in the patient's perineal area to provide counter-traction while the leg is pulled taught. Dr. Nwachukwu is one of approximately 20% of hip surgeons in the USA  who have switched to postless hip arthroscopy.  This new technology for accessing the joint eliminates the perineal post completely by using a special surgical table to create the traction required for the surgery resulting in quicker recovery without complications such as numbness in the genital area and possible nerve damage.
What is the recovery time after a core decompression in the hip?
Patients will be given a set of post-operative protocols following a hip core decompression. Generally, patients will follow specific physical therapy exercises, to retain and improve range of motion and to strengthen the hip. If bone grafts were used as part of this joint preservation procedure, healing can occur for 6 to 9 months after surgery.
6 month post-operative with Joint preserved
For more information regarding hip core decompression as a joint preservation treatment, or to discuss treatment options available for your hip pain, please contact the office of Benedict Nwachukwu, MD, orthopedic hip specialist serving Manhattan, New York City and surrounding New York boroughs.   
Office Hours
HSS Sports Medicine Institute West Side
Monday: 8:00 am – 5:00 pm
Tuesday: 8:00 am – 5:00 pm
Wednesday: 8:00 am – 5:00 pm
Thursday: 8:00 am – 5:00 pm
HSS Brooklyn
Friday: 8:00 am – 5:00 pm