Osteochondral Allograft Transplantation Surgery (OATS) Surgeon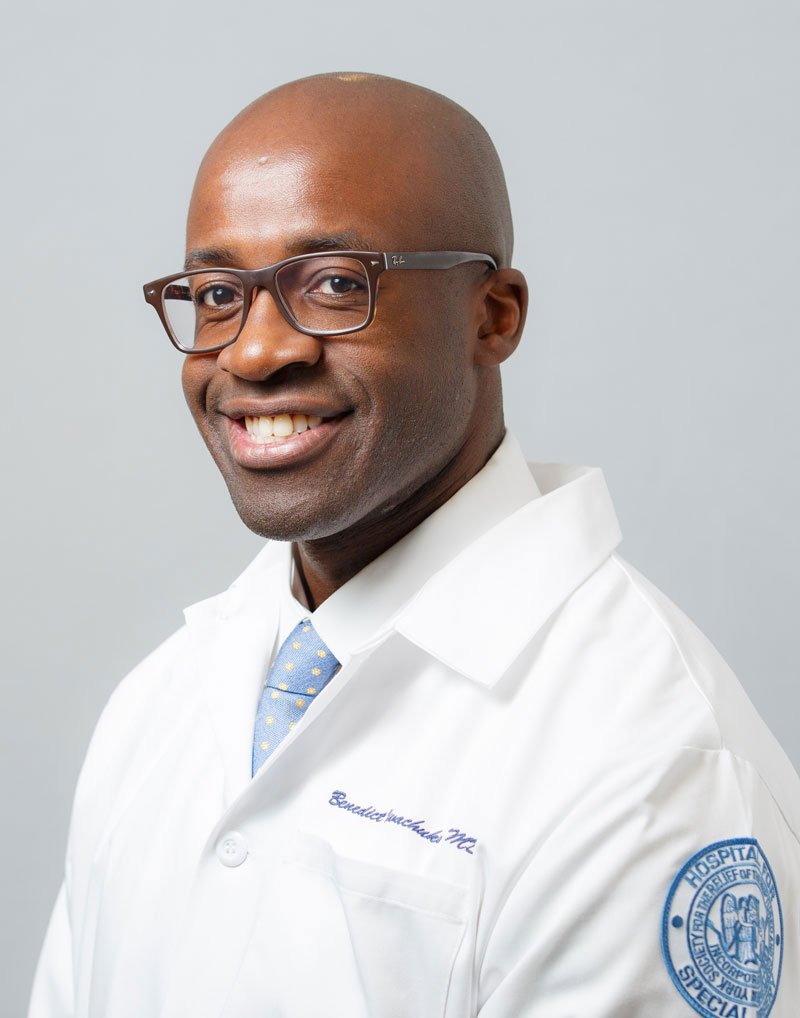 Osteochondral allograft transplantation surgery (OATS) is relatively new to orthopedic medicine. Healthy donated tissue is used to replace damaged areas of articular cartilage.  OATS surgeon, Doctor Benedict Nwachukwu provides diagnosis as well as surgical and nonsurgical treatment options for patients in Manhattan, New York City, NY who have articular cartilage damage and are good candidates for the procedure. Contact Dr. Nwachukwu's team today!
What is articular cartilage transplantation?
Repair of adult human cartilage is one of the greatest challenges in orthopedic medicine. The articular cartilage in the knee is the smooth, slippery coating on the ends of the bones that allow the bones to glide across each other without pain. If the articular cartilage becomes damaged the bones can rub together, causing pain and eventually, osteoarthritis. To prevent this, a surgical technique that involves replacing the damaged cartilage with healthy cartilage and bone, called articular cartilage transplantation, may be recommended. Dr. Benedict Nwachukwu, orthopedic knee surgeon, serving patients in Manhattan, New York City and the surrounding New York boroughs specializes in articular cartilage transplantation and can successfully treat patients who are experiencing the painful symptoms of articular cartilage damage.
 Cartilage Defect Identified at Time of Arthroscopy
What is a cartilage allograft?
Cartilage allograft, also called osteochondral allograft (OCA) is a type of graft used during a special surgical procedure called osteochondral allograft transplantation surgery (OATS). This procedure replaces damaged areas of articular cartilage with new, healthy tissue of bone and cartilage, donated from a tissue bank or cadaver. The cartilage cells can survive the transplantation process if the tissue is "fresh" or has not been frozen or exposed to radiation. During this specialized procedure, Dr. Nwachukwu drills small holes into the damaged cartilage area of the knee. Bone and cartilage grafts, obtained from a tissue bank, are inserted into the defective area to re-surface the damaged cartilage. Placement of these bone-cartilage cylinders, known as allografts, can be used to resurface an area of the knee that lacks an articular cartilage cover.
Preparation of Medial Femoral Condyle
Osteochondral Allograft Plug After it has Been Inserted for Resurfacing
Is allograft transplantation new?
Compared to other well established procedures, osteochondral allograft transplantation surgery (OATS) is relatively new to orthopedic medicine. During the 1990's, orthopedic surgeons began using plugs or cylinders of bone and articular cartilage taken from a non-weight bearing, healthy area of the patient's own knee. The plugs of healthy tissue were transplanted into the damaged area of the knee. The cylinders of cartilage tissue, called autografts, were used to resurface and area of the knee that did not have cartilage. In the early 21stcentury, a donor tissue started to be used, in place of the patient's own tissue (called an allograft) and has since had a positive and successful history. Allograft transplantation for articular cartilage damage in the knee is an important tool in Dr Nwachukwu's armamentarium for addressing cartilage defects.
Does articular cartilage transplantation work?
The success for articular cartilage transplantation depends greatly on the pre-screening process. It is very important to carefully assess whether a patient is a candidate for this type of surgery. Dr. Nwachukwu has a strict protocol he follows and can discuss the chances of success with each patient. Successful transplantation has shown that patients can get 10 years or more of significant outcomes from an articular cartilage transplantation. However, it is important to remember that this surgery is not a cure for arthritis and not all patients can return to their full impact activities afterward.
Who is a good candidate for articular cartilage transplantation?
Conditions which may be helped by this procedure:
Patients who are young, healthy and willing to complete post-surgical protocol
A focal cartilage lesion greater than 1cm
Severe osteochondritis dissecans
Osteonecrosis (bone death)
Failed prior treatment such as microfracture or autologous chondrocyte implantation
Joint reconstruction after a fracture
Will my body reject an articular cartilage transplantation?
An allograft is living human tissue that has been donated. However unlike organ transplants, an allograft does not cause the body to have an immune response that can lead to rejection of the transplant. The cartilage does not have any blood elements in it that would cause the body to reject it. Since the tissue is avascular, it is what is known as "immune-privileged tissue" meaning it does not provoke an immune response from the recipient and won't be rejected.
What is the recovery like after an allograft?
Patients who undergo an articular cartilage transplantation can expect the following:
Non-weight bearing for 8 weeks.
Continuous passive motion (CPM) machine will be used for 8-10 hours a day to keep the joint mobile without stressing the allograft.
Physical therapy, done in stages to strengthen the surrounding muscles and maintain range of motion.
X-rays at 8 weeks post-surgery to determine if the donor graft is healing properly.
Once proper healing has been confirmed by Dr. Nwachukwu, patients may begin a slow weight bearing regimen that may take up to 4 weeks until full body weight is allowed.
Crutches may be weaned at 3 months post operatively
Impact activities may be allowed between 6 and 9 months after surgery.
Full recovery is usually between 7-10 months with improvements up to one year.
For more information on articular cartilage transplantation, allograft or to see if you are a candidate for this specialized procedure, please contact the office of Benedict Nwachukwu, MD, orthopedic knee surgeon serving Manhattan, New York City and the surrounding New York boroughs.   
Office Hours
HSS Sports Medicine Institute West Side
Monday: 8:00 am – 5:00 pm
Tuesday: 8:00 am – 5:00 pm
Wednesday: 8:00 am – 5:00 pm
Thursday: 8:00 am – 5:00 pm
HSS Brooklyn
Friday: 8:00 am – 5:00 pm