PCL Reconstruction Surgeon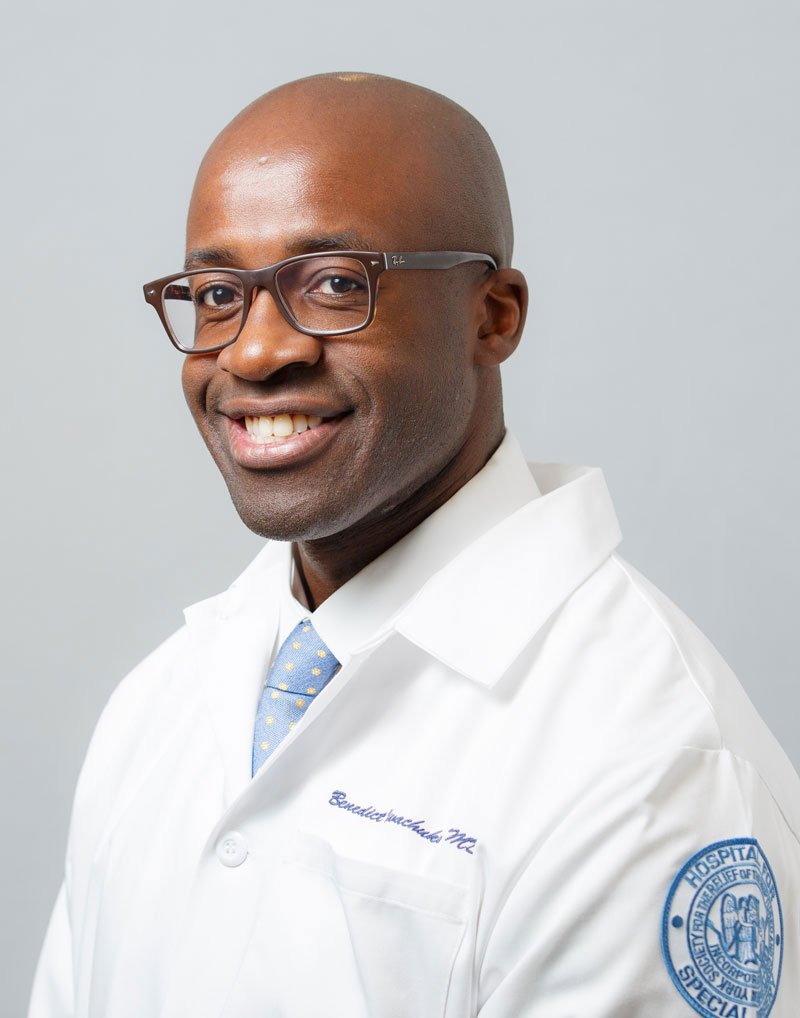 Are you an athlete who participates in contact sports? If so, you may be at risk of sustaining a PCL injury. PCL injuries are not as common as ACL injuries, but when they occur, patients can experience severe knee instability and loss of proper function. PCL surgeon, Doctor Benedict Nwachukwu provides diagnosis as well as surgical and nonsurgical treatment options for patients in Manhattan, New York City, NY who have sustained a PCL tear. Contact Dr. Nwachukwu's team today!
What is the PCL?
The PCL or posterior cruciate ligament is the strongest ligament in the knee joint. It is located on the back of the knee and runs down the middle, connecting the femur (thigh bone) to the tibia (shin bone). The PCL is responsible for keeping the tibia from moving backward too far under the femur. A PCL injury usually occurs from a trauma, accident or serious fall.  Dr. Benedict Nwachukwu, orthopedic knee specialist, serving patients in Manhattan, New York City and the surrounding New York boroughs has extensive experience in treating patients with a PCL injury.
Why would a PCL reconstruction be needed?
A PCL tear can occur without other knee soft-tissue damage, however the PCL is often injured in conjunction with other knee ligaments. Severe PCL knee injuries can occur with injuries to the ACL, MCL and posterolateral corner of the knee. A PCL injury that is a grade 3 injury (complete tear of the ligament) will require PCL reconstruction to restore the normal function and stability of the knee.
How is a PCL reconstruction done?
For patients in the New York area, PCL reconstruction can by done with a minimally invasive arthroscopic procedure. Arthroscopic PCL reconstruction uses a small camera inserted into the knee and small, specialized instruments which complete the surgery inside the joint.  During this surgery, Dr. Nwachukwu will carefully assess the knee and determine if other ligaments are involved as well as the extent of repairs that need to be performed. For PCL reconstruction, a tissue graft is needed to reconstruct the ligament. Dr. Nwachukwu will commonly use an allograft (from a donor or cadaver). For PCL reconstructions, allografts provide the benefit of a low risk of re-rupture and easier recovery. The graft is secured to native footprint of the PCL on the femur and threaded into the posterior aspect of the tibia at the normal PCL attachment. The graft is secured with sutures and special surgical screws.
What is the recovery time after PCL reconstruction?
It takes time for any ligament reconstruction to heal and often depends on the patient's age, health and any underlying medical conditions. Most patients are able to return to their pre-injury activities after following Dr. Nwachukwu's post-surgical protocol. In general, patients can expect the following:
A PCL brace (bendable knee brace) is placed on the leg following surgery to help protect and support the healing ligament.
Pain medication may be prescribed and should be taken only as directed.
Passive knee bending exercises will begin immediately after surgery to help range of motion.
Crutches will be used for the first 6 weeks with weightbearing slowly and once Dr. Nwachukwu has determined that the new graft is healing.
Crutches are weaned off slowly with continued weight bearing until patients can walk without limping.
A stationary bike may be used to build strength and eventually physical therapy.
Full recovery typically occurs with a return to full activities in about 6 to 9 months.
For more information on PCL or posterior cruciate ligament reconstruction, please contact the office of Benedict Nwachukwu, MD, orthopedic knee surgeon serving Manhattan, New York City and the surrounding New York boroughs.   
Office Hours
HSS Sports Medicine Institute West Side
Monday: 8:00 am – 5:00 pm
Tuesday: 8:00 am – 5:00 pm
Wednesday: 8:00 am – 5:00 pm
Thursday: 8:00 am – 5:00 pm
HSS Brooklyn
Friday: 8:00 am – 5:00 pm