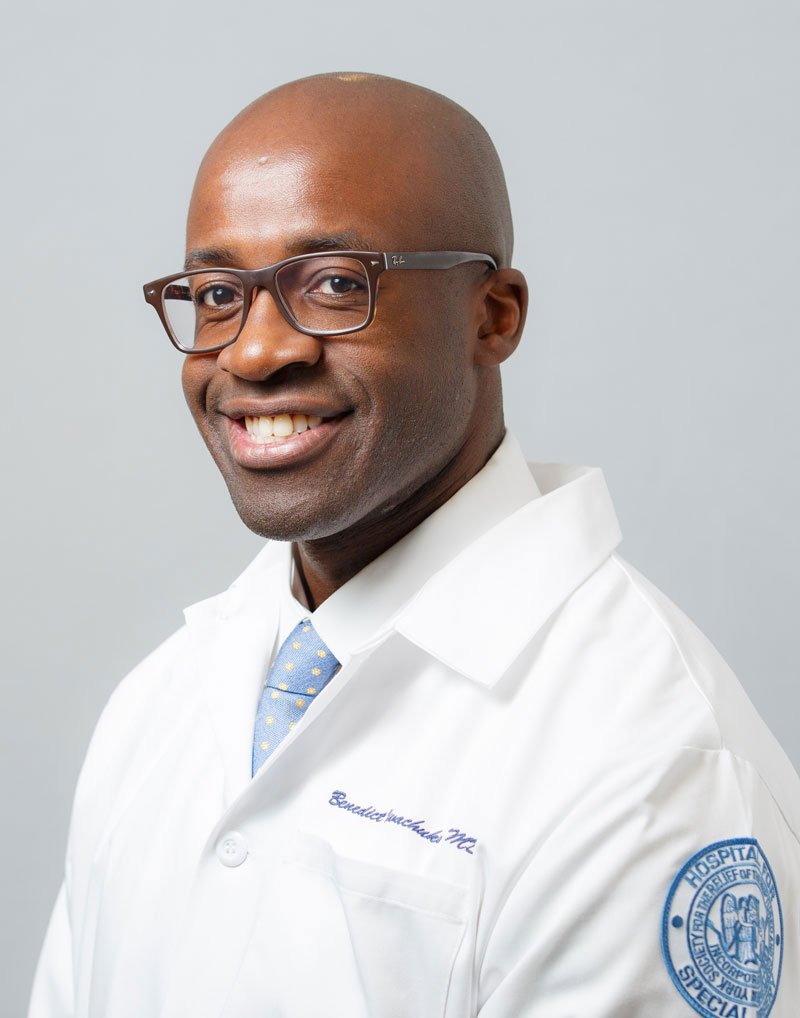 Are you an athlete who participates in sports that involve running and jumping? If so, you may be at risk of tearing your meniscus. A meniscus tear can occur due to a traumatic event or degeneration. Small or minor meniscus tears can often heal on their own without surgery, but larger tears, especially those in the inner third of the meniscus, may require surgical intervention.  Meniscus surgeon, Doctor Benedict Nwachukwu provides diagnosis as well as surgical and nonsurgical treatment options for patients in Manhattan, New York City, NY who have sustained a meniscus injury. Contact Dr. Nwachukwu's team today!
What is a meniscectomy?
A meniscectomy is a surgical procedure that removes all or part of a torn meniscus. Meniscus tears are common knee joint injuries, especially in young athletes. The goal of a meniscectomy is to remove fragments of the torn meniscus that interfere with joint movement and can cause the knee to lock. Meniscectomy surgery can be done arthroscopically by Dr. Benedict Nwachukwu, orthopedic knee surgeon, serving patients in Manhattan, New York City and the surrounding New York Boroughs.
Why would I need a meniscectomy?
Small or minor meniscus tears can often heal on their own without surgery, especially if the tear is located in the outer third of the meniscal tissue. This area, called the red zone, is blood rich, providing the healing ability for the torn meniscus. However, more severe tears, especially those on the inner third of the meniscus often need surgical intervention. The reasons a meniscectomy may be needed are:
Meniscus tear does not heal with non-surgical treatment
Large meniscus tears that cannot be repaired
Tears that cause the knee joint to be unstable
If the knee is locking or catching
What is a partial meniscectomy?
A partial meniscectomy is the most common outpatient surgery performed in the United States. Since the goal of meniscus surgery is to preserve as much of the meniscus as possible, partial meniscectomy is a preferred treatment method for meniscus tears that cannot heal on their own. During a partial meniscectomy, Dr. Nwachukwu will try to repair any viable parts of the meniscus, and only remove the torn, ragged portions that cannot be repaired. He will trim down any frayed ends or rough surfaces that could catch in the knee joint and cause pain. With an attempt to preserve as much of the meniscus as possible, the shock absorbing capability remains, and the likelihood of a re-tear diminishes.
Do I need a partial or full meniscectomy?
The decision to remove part or all of the meniscus can generally be made during the diagnosis when Dr. Nwachukwu has fully reviewed the MRI Scan. At the time of surgery, Dr. Nwachukwu will only remove the part of the meniscus that is necessary to be removed to restore function – as such he will most commonly avoid removal a large portion of the meniscus. As part of the decision making,  Dr. Nwachukwu takes into consideration the following factors:
Age
Tear size
Location of the tear
Patient's symptoms
Activity level
Health and underlying conditions
Patient goals after surgery
How long is the recovery after a meniscectomy?
The meniscus plays a vital role in a patient's gait, joint health and in the overall function of the knee. Meniscectomy surgery, rather partial or full, will need to be carefully monitored by Dr. Nwachukwu. Future activities should avoid high impact sports or activities that cause pain or swelling in the joint. Instead, low impact activities will help patients to avoid developing osteoarthritis.
In general, this minimally invasive procedure has a shorter recovery time than open surgeries. Weight bearing following surgery is allowed when tolerated with crutches the first week. Afterward, full weight bearing and a slow increase in activities may continue for the next two weeks. Most patients return to their pre-surgery activities with in 4 to 6 weeks.
For more information on meniscectomy or meniscus removal surgery for a torn meniscus, please contact the office of Benedict Nwachukwu, MD, orthopedic knee surgeon serving Manhattan, New York City and the surrounding New York boroughs.   
Office Hours
HSS Sports Medicine Institute West Side
Monday: 8:00 am – 5:00 pm
Tuesday: 8:00 am – 5:00 pm
Wednesday: 8:00 am – 5:00 pm
Thursday: 8:00 am – 5:00 pm
HSS Brooklyn
Friday: 8:00 am – 5:00 pm