Orthopedic Hip Specialist, Staten Island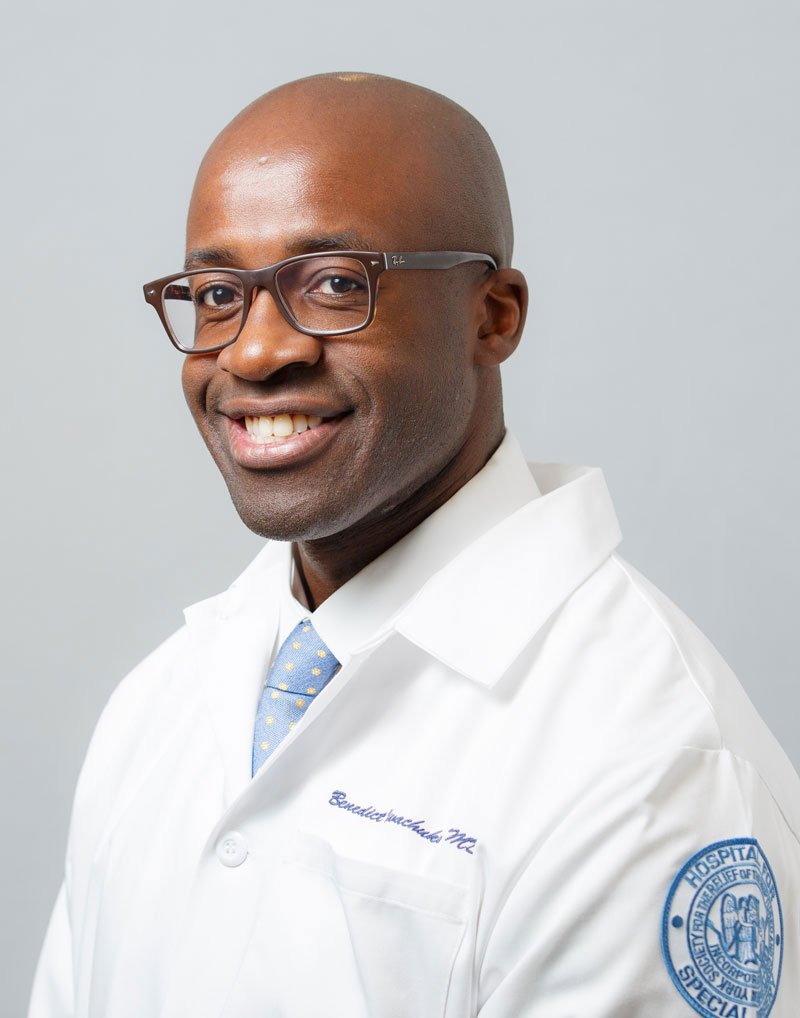 Do you have a hip condition that causes pain in your hips, lower back or buttocks? Do you experience popping or cracking in the hip when sitting or standing?  There are a number of hip conditions that can cause pain and inflammation in the hip, making daily activities painful. Hip pain specialist, Doctor Benedict Nwachukwu provides diagnosis and both surgical and nonsurgical treatment options for patients in Staten Island, NY who are experiencing hip pain. Contact Dr. Nwachukwu's team today!
Orthopedic Hip Specialist and Surgeon in Staten Island, New York:
Dr. Benedict Nwachukwu is an expert in the field of hip care. As an orthopedic hip specialist, Dr. Nwachukwu sees many patients from the Staten Island, New York area who have a hip condition or hip pain. Since his offices are at the state of the art, Hospital for Special Surgery (HSS) in New York, he is easily accessible. Hip injuries are quite common and can be caused from sports, an accident, or even from wear and tear due to repetitive hip motions and daily activities. Dr. Nwachukwu is consistently recommended by former patients and by his peers when it comes to hip pain and the proper treatment.
An Overview of the Hip (Ortho Doc):
The hip is a ball and socket joint, formed by the rounded head of the thigh bone (femur) and the socket (acetabulum) in the pelvis. The hip is made up of large muscles, ligaments and tendons which hold the ball securely within the socket, keeping it from dislocating, while distributing weight and power for the body's activities. As one of the largest joints in the body, and as one of the most flexible joints, the hip is susceptible to hip pain and problematic hip conditions. When hip conditions cause pain, it can be debilitating. Sports activities become more difficult, and some hip conditions can progress to an inability to perform daily activities. Dr. Benedict Nwachukwu is a world-recognized orthopedic hip specialist who successfully treats patients from Staten Island, New York who are experiencing a hip condition.
Hip Specialist Diagnosing and Treating Hip Conditions:
Many hip conditions occur when the soft tissue structures within the joint, including the ligaments, tendons and muscles become damaged. Athletes and workers in Staten Island who participate in sports, are at a higher risk of sustaining a hip injury. Often, hip injuries can be treated non surgically and Dr. Nwachukwu offers several treatment options for his patients who are dealing with a hip injury.
Dr. Nwachukwu, hip specialist in Staten Island, New York, specializes in these hip conditions:
Hip Surgeon in Staten Island, New York Offers Minimally Invasive Surgical Procedures and Post-less Hip Surgery:
Dr. Nwachukwu typically begins treatment of a hip injury with non-surgical measures. However, if the hip injury is too severe or does not respond to non-operative treatment, a minimally invasive arthroscopic surgery may be recommended to return full hip function, without pain.
Dr. Nwachukwu offers the following hip procedures (all which are performed using the post-less technique):
Excision of Heterotopic Ossification
Labrum Repair and Reconstruction
Hip Preservation and Sports Doctor in Staten Island:
Staten Island hip surgeon, Dr. Nwachukwu is actively involved in research on various hip preservation techniques and hip surgeries. His is recognized as a leader in hip treatments including the use of biologic procedures, stem cell injections and platelet rich plasma (PRP).
If you live in the Staten Island, New York, or the surrounding New York boroughs, and are searching for a hip specialist, contact the orthopedic office of Dr. Benedict Nwachukwu.  As a hip surgeon at the Hospital for Special Surgery in New York City, Dr. Nwachukwu strives to return patients and athletes to normal activities as quickly as possible following a hip injury. Call Dr. Nwachukwu's team today!