Hip Surgeon, Westchester, NY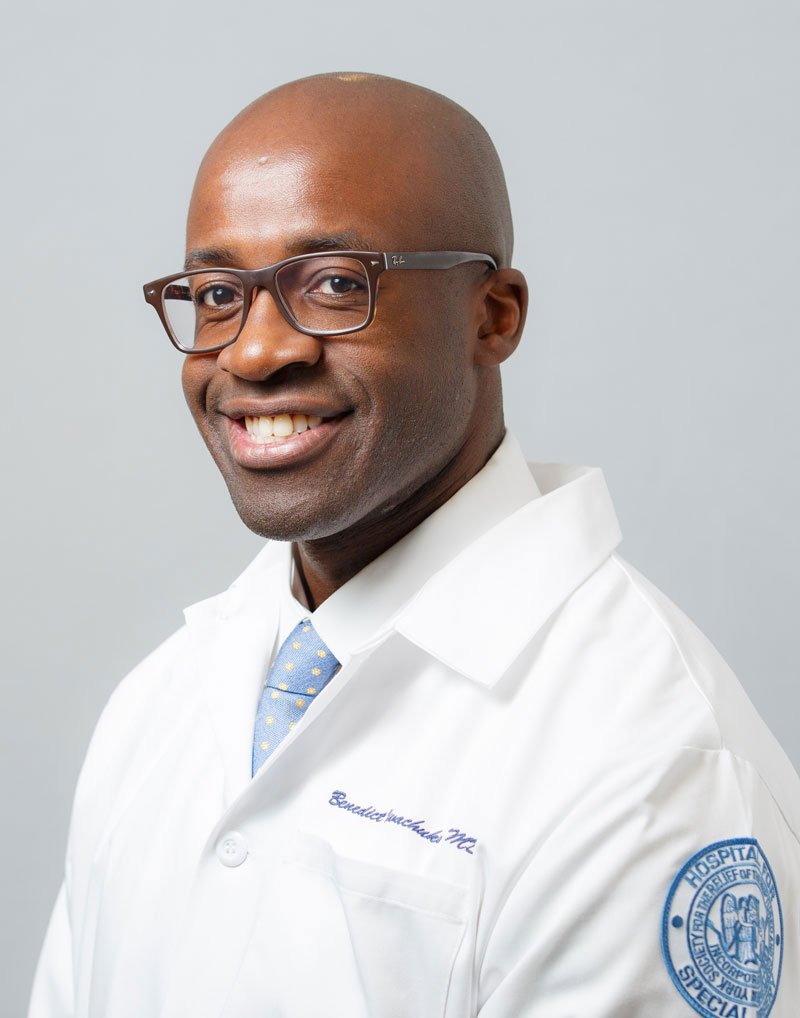 Do you have hip pain when participating in sports, walking, running or even when sitting or standing?  Hip pain can be a common complaint for patients in Westchester and can be caused by a number of hip conditions. Orthopedic hip surgeon and hip specialist, Doctor Benedict Nwachukwu provides diagnosis and both surgical and nonsurgical treatment options for patients in Westchester New York who are experiencing hip pain. Contact Dr. Nwachukwu's team today!
Hip Joint Overview:
The hip joint is formed by the head of the femur (thigh bone) fitting securely into the acetabulum (socket) in the pelvis. This ball and socket joint is supported by large muscles, ligaments and tendons which keep the ball securely in place within the socket. The hip has a wide range of motion and is one of the more flexible joints in the body. However, the flexibility of the hip makes it inherently vulnerable to injury. Hip pain can cause patients in Westchester to discontinue activities and sports that they love. Dr. Benedict Nwachukwu, orthopedic hip specialist, is an expert at helping patients in Westchester who are having hip pain or who have a hip condition.
Orthopedic Hip Surgeon and Sports Doctor for Patients from Westchester:
Dr. Benedict Nwachukwu is an expert in the field of hip care. As an orthopedic hip specialist, Dr. Nwachukwu sees many patients from the Westchester, New York area who have hip pain. His offices are located at the Hospital for Special Surgery (HSS), a state-of-the-art facility in the heart of New York. Hip injuries and pain are quite common and can be caused from daily activities, sports or from an accident. Dr. Nwachukwu is consistently recommended by his peers and by former patients when it comes to hip pain and the proper treatment.
Orthopedic Hip Doctor Offers Postless Hip Surgery for His Patients in Westchester
Dr. Nwachukwu typically begins treatment of a hip injury with non-surgical measures. However, if the hip injury is too severe or does not respond to non-operative treatment, a minimally invasive arthroscopic surgery may be recommended to return full hip function, without pain.
Dr. Nwachukwu offers the following hip procedures (all which are performed using the post-less technique):
Excision of Heterotopic Ossification
Labrum Repair and Reconstruction
Orthopedic Hip Preservation Surgeon in Westchester. NY:
Westchester hip surgeon, Dr. Nwachukwu is actively involved in research for hip preservation. He offers several techniques and hip surgeries that help save the hip joint. His is recognized as a leader in hip treatments including the use of biologic procedures, stem cell injections and platelet rich plasma (PRP).
If you live in Westchester, New York, or the surrounding New York boroughs, and are searching for a hip specialist, or a best-in-class hip surgeon, contact the orthopedic office of Dr. Benedict Nwachukwu.  As a hip surgeon at the Hospital for Special Surgery in New York City, Dr. Nwachukwu strives to return patients and athletes to normal activities as quickly as possible following a hip injury. Contact Dr. Nwachukwu's team today!